World Championship for Men 2017, A-group
World Championship for Men 2017, A-group, will be played in Sandviken, Sweden, during January 29 – February 05, 2017. To come to the official Website for World Championship click on the logo above.
WCS Girls Y17 in Irkutsk, Russia
feb 20, 2017 | Follow WCS for Girls Y17 in Irkutsk, click on the logo.


Russia, Sweden, Finland and Norway tournament live on web
dec 8, 2016 |
The game program:
Slättbergshallen, Trollhättan
Friday, December 9
15:00 Norway-Finland
19:00 Sweden-Russia
Saturday, December 10
13:00 Sweden-Norway
16:30 Finland-Russia
Sunday, December 11
11:00 Russia-Norway
15:00 Finland-Sweden
Live broadcast from the tournament: play.staylive.se/svenskbandy
Cost: 99kr per game
Package: 169kr for the whole weekend

Bandy Old Boys World Cup In Lappenranta Finland 18-20 November 2016
okt 21, 2016 |
This year participate eight teams, Krasnojarsk, Uljanovsk, Saint Petersburg, Murmansk, Arkhangelsk, Korolov Moscow, Veiterä and last years winner Team FIB.
Bandy destined for the Olympic Winter Games!
okt 21, 2016 | Bandy compares well to the 15 current OWG sports
A report \"Benchmarking as a Cutterbolt into the Olympic Wall\" shows that bandy is the #2 winter sport in participation based on data from international federations. The report demonstrates that bandy command greater Universality, compared to most incumbent Olympic Disciplines.
Women's World Championship in Minneapolis, USA
feb 16, 2016 | Championships are played Thursday-Saturday, February 18-20. The participating countries are Canada, China, Finland, Norway, Russia, Sweden and USA. Read more here >>

Follow all the matches LIVE from World Championship group B
feb 10, 2016 | Here you can follow all the matches from Bandy World Championships group B in Ulyanovsk that starts today. To the official site >>
Time difference with Sweden is -2 hours, finland -1 hour, norway -2…

Videos
BANDY-VM, B-GROUP

Follow matches on web-tv January 27-28
WORLD CUP BANDY WEBBSITE

World cup Bandy LIVE

Reports
Upcoming tournaments

World Cup Men for Club
Teams Sandviken, SWE 13.10 – 16.10, 2016

World Cup Women for Club
Teams Kungälv, SWE 28.10 – 30.10, 2016

World Cup Veterans Lappeenranta
FIN,  18-20/11, 2016

World Cup Girls Y17
Vetlanda SWE, 4.11 – 6.11, 2016

World Championship Men A-grp
Sandviken, SWE 29.1 – 5.2, 2017

World Championship Men B-grp
Trollhättan, SWE 24.1 – 28.1, 2017

World Championship Y19
Syktyvkar, RUS January 2017

World Championship Y17
Varkaus, FIN 2.2 – 4.2, 2017

World Championship GY17
Irkutsk, RUS 24.2 - 26.2 2017
FIB Web-tv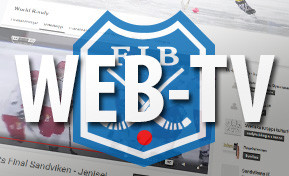 Partners
Facebook