SWEDEN AND FINLAND WINNERS ON THE FIRST GAME-DAY!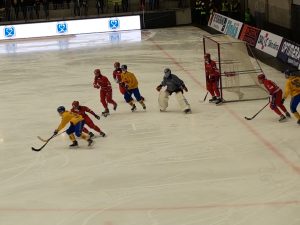 Sweden and Finland won the first games in Group A.
Sweden beat Russia in the first game in World Championship Group A by 6 goals to 4 (half time 3-1). The game was fairly even, but Sweden was always ahead of the goal production. Sweden also took better care of their target chances. But these two teams are so smooth that if they meet again in the tournament the picture can be changed.
Finland had no problem to defeat Kazakhstan. After 2-0 in the first half the goal production went very fast in the second half. The game ended 9-0 (half time 2-0). Emil Fedorov was the best scorer with 4 goals for Finland.
SCORERS SWEDEN-RUSSIA:
1-0 David Pizzoni Elfving (19 min)
1-1 Maxim Ishkeldin (36)
2-1 Simon Jansson (37)
3-1 Christoffer Edlund (44)
3-2 Maxim Ishkeldin (49)
4-2 Johan Esplund (61)
5-2 Erik Pettersson (63)
5-3 Maxim Ishkeldin (81)
6-3 Daniel Berlin (91)
6-4 Almaz Mirgazov (94)
Spectators: 3 223
SCORERS FINLAND-KAZAKHSTAN:
1-0 Emil Fedorov (10 min)
2-0 Emil Fedorov (24)
3-0 Tuomas Määttä (53)
4-0 Tuomas Määttä (64)
5-0 Markus Kumpuoja (69) Penalty stroke
6-0 Teemu Määttä (71)
7-0 Emil Fedorov (73)
8-0 Tuomas Määttä (79)
9-0 Emil Fedorov (85)
Spectators: 1 545