News archive
FIB Registered Testing Pool, season 2017– 2018
aug 10, 2017 |
FIB Registered Testing Pool, season 2017– 2018
WOMEN
Sweden
Camilla Johansson
Johanna Gustafsson
Frida Erlandsson
Russia
Olga Rodionova
Olga Bogdanova
Norway
Martine Døhlen Holm
Charlotte Marie Selbekk
MEN
Sweden
David Pizzoni-Elfving
Martin Johansson
Adam Gilljam
Russia
Roman Chernykh
Yury Shardakov
Finland
Mikko Lukkarila
Tuomas Liukkonen
2017 IOC - International Federation Development Programme
apr 26, 2017 |

The IOC is pleased to launch the 2017 IOC - International Federation Development Programme.
The success of recent Olympic Games underscored the strength of the Olympic Movement and the continued attractiveness of the Olympic Games. With the role of sport in society more relevant than ever, strengthening the support for sport and athletes worldwide is a key commitment of Olympic Agenda 2020.
Girls Bandy World Championships 2017
feb 27, 2017 | Follow WCS for Girls Y17 in Irkutsk.

BANDY-VM, B-GROUP 2017
jan 30, 2017 |

Bandy VM, B grupp 2017 in Trollhättan
For more info about the event, visit the webpage.
Russia, Sweden, Finland and Norway tournament live on web
dec 8, 2016 |
The game program:
Slättbergshallen, Trollhättan
Friday, December 9
15:00 Norway-Finland
19:00 Sweden-Russia
Saturday, December 10
13:00 Sweden-Norway
16:30 Finland-Russia
Sunday, December 11
11:00 Russia-Norway
15:00 Finland-Sweden
Live broadcast from the tournament: play.staylive.se/svenskbandy
Cost: 99kr per game
Package: 169kr for the whole weekend

Bandy Old Boys World Cup In Lappenranta Finland 18-20 November 2016
okt 21, 2016 |
This year participate eight teams, Krasnojarsk, Uljanovsk, Saint Petersburg, Murmansk, Arkhangelsk, Korolov Moscow, Veiterä and last years winner Team FIB.
Bandy destined for the Olympic Winter Games!
okt 21, 2016 | Bandy compares well to the 15 current OWG sports
A report \"Benchmarking as a Cutterbolt into the Olympic Wall\" shows that bandy is the #2 winter sport in participation based on data from international federations. The report demonstrates that bandy command greater Universality, compared to most incumbent Olympic Disciplines.
Women's World Championship in Minneapolis, USA
feb 16, 2016 | Championships are played Thursday-Saturday, February 18-20. The participating countries are Canada, China, Finland, Norway, Russia, Sweden and USA. Read more here >>

Follow all the matches LIVE from World Championship group B
feb 10, 2016 | Here you can follow all the matches from Bandy World Championships group B in Ulyanovsk that starts today. To the official site >>
Time difference with Sweden is -2 hours, finland -1 hour, norway -2…

Follow all the matches LIVE from World Championship Y19!
feb 5, 2016 | Sweden, Trollhättan, (5-7/2) Read more about the championship >> (swedish)

Information about World Championship in Bandy 2016
feb 2, 2016 | Dear Friends! Due to the weather conditions and in order to keep the ice on Trud stadium in excellent shape for semifinals and final, the following matches are moved to Volga Sport Arena. Tuesday 2.2,…

World Championship in Ulyanovsk starts today
feb 1, 2016 | World Championships start today and first up is the match between the USA and Latvia at 10:00. Their last game last year, ended 5-2 to the USA.

Annual FIB Congress 2016
feb 1, 2016 | Dear colleagues! The Annual FIB Congress at the World Championship 2016 in Ulianovsk will be held on Friday, February 5th, at 10:00 AM local time in hotel "Venets" (Spasskaya str. 19/9). Welcome to the Congress!

Follow all the matches from Y17 World Championship!
jan 29, 2016 | Here you can follow all the matches from Y17 Bandy World Championships in Arkhangelsk that starts today. Time difference with Sweden is -2 hours, finland -1 hour, norway -3 hours

LIVE-stream from Y21 World Championship!
jan 28, 2016 | All matches of World Cup broadcast via live stream. The broadcasts begin at 09:00
See live-stream here >> Follow games live here >> Official page here >>

World cup bandy webbsite 2017
World cup bandy website
Reports
Upcoming tournaments

World Cup, Men
Sandviken, SWEDEN,
12-15 October 2017

World Cup Women
Kungälv, SWEDEN,
27-29 October 2017

World Cup Veterans
Lappeenranta, FINLAND,
17-19 November 2017

Mini WC, Boys Y15
Bollnäs, SWEDEN
03-05 November 2017

WC, Girls Y17
Vetlanda, SWEDEN
03-05 November 2017

World Championship, Men Y21
Lidköping, SWEDEN
09-10 Dec 2017

World Championship, Women
Chengdu, CHINA
11-14 Jan 2018

World Championship, Men
A-Group, Khabarovsk, Russia
28 Jan - 04 Feb 2018

World Championship, Men
B-Group, Harbin, China
28 Jan - 04 Feb 2018

World Championship, Boys Y19
Drammen, NORWAY
26-28 Jan 2018

World Championship, Boys Y17
Ulyanovsk, RUSSIA
26-28 Jan 2018

World Championship, Boys Y15
Minneapolis, USA
26-28 Jan 2018
FIB Web-tv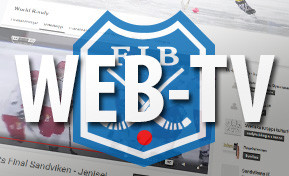 Partners
Facebook