Bandy parliament in Vänersborg!
A bandy parliament was arranged by Swedish Bandy Federation in Vänersborg during the bandy World Championships. More than hundred participants, leaders, coaches and board members from all over Sweden participated. The intention was to exchange experiences and knowledge over two days. Everything to develop themselves and gain new insights and ideas so that the bandy can develop in the future.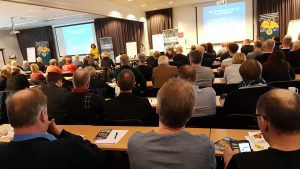 The participants received exciting lectures mixed with group discussions in smaller groups on different topics.
There were lecturers like Agne Bergwall, with experiences in both leading width and elite sports, Christian Davidsson, youth officer in the ice hockey club HV71 from Jönköping and Per Wirén, responsible for education at the Swedish Football Federation. First on stage as lecturer was Karin Torneklint, the national coach for the Swedish athletics national team. She talked about how her sport works with issues such as personal development, multiculturalism, leading a national team with many cultures, gender and ages.
The main purpose with the parliament was to point to issues in the future, competition against other sports and to get more youngsters to start playing bandy. The Parliament was divided into different themes; dealing with well-being associations, health and youth activities, well-being bandy association and the future bandy association.